Aerospace and aviation equipment and devices have many characteristics that can make them challenging to ship. For example, a jet engine is a large, heavy item that's difficult to move and to secure in place for transport. It's also a very expensive asset. Smaller items like avionics equipment may be expensive, as well, and they are often sensitive or fragile.
Then, in some instances of aerospace transportation, there are deadlines to consider. If a plane is grounded until a particular component can be received and installed, that ticking clock can put pressure on you to take shortcuts in how you prepare the shipment. And shipping aerospace and aviation cargo without proper planning and preparation can be a disastrous and costly mistake.
However, by carefully considering the physical and operational characteristics of an item, the forces it will encounter during transport and the environmental conditions it will be exposed to, you and your shipping partner can develop a plan for getting aircraft parts from their point of origin to their destination safely and efficiently.
Important Steps for Aerospace Transportation
Shipping aircraft parts—whether across town or around the world—isn't like shipping office furniture. To ensure that your equipment and devices get to their destination on time and in as-shipped condition, there are certain steps you should take:
Carefully assess the item. It's important to get input from your internal experts on a particular type of aerospace asset. Is it susceptible to damage? If so, where and from what kinds of forces? Does it have components that should be disconnected or disassembled? Does it have fluids that should be drained or electrical systems and batteries that should be disconnected or removed? A thorough evaluation of the item can help prevent damage and also protect those handling the item.
Carefully assess the asset's environment and path from origin to destination. Is there anything that will make it difficult to move the item from its current location onto a truck for transport, from a truck into the designated spot at the end of the move, or through any of the handoffs in between?
Educate yourself on compliance issues. There may be laws pertinent to the items you're shipping, especially if they are for military use. Your crating and shipping provider may be able to provide some insight on these rules and regulations, but you should also do your own research.
Acquire any necessary permits or clearances. Again, the best aerospace logistics providers may be able to provide some guidance here, but you should also look into getting the necessary paperwork taken care of.
Consider insuring the item. Despite the best work of the most skilled specialty crating and shipping company, there are "Act of God"-type perils that all shipments face. Cargo insurance helps protect your valuable assets from those risks.

Working With a Specialty Crating and Transport Company for Shipping Aircraft Parts Is Essential
All shipping companies will state that they can transport "just about anything." While it may be true that they can get most items from Point A to Point B, aviation assets aren't "most items." The large, costly or fragile nature of these goods means you don't want to entrust them to just anybody.
It's critical to work with a specialty crating and shipping company that understands and can manage the intricacies of jet engine shipping or transport of any types of aviation assets. For example, especially with large items like engines, hull and wing sections, etc., simply placing them in a container and filling the area around them with packing material won't provide adequate protection.
A company that truly understands and excels at transporting aviation assets will have expert packaging engineers on staff. Their job is to assess your item and develop a customized packaging and crating strategy that includes custom-built blocking and bracing structures to keep the item immobile within a crate designed and constructed specifically for it.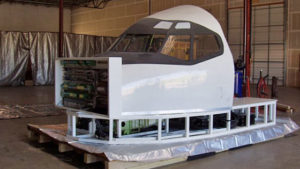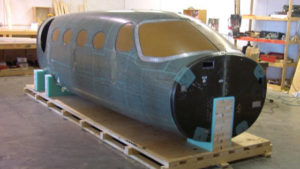 And because the provider has handled aerospace asset transport before, they will be able to provide an accurate quote on the cost of the project that you can use in your budgeting.
A Note on Shipping Aircraft Parts Internationally
If you haven't shipped aviation assets overseas before, it's important to note that there are additional considerations for international shipping as compared to shipping domestically.
For example, getting items through customs in the U.S. and in the destination country will require additional paperwork, inspections, etc. There will also be fees, taxes or tariffs you'll have to pay. And just the physical movement of the shipment will be more complex, with the journey likely involving multiple transport modalities (truck, ship, plane, train, etc.), multiple "legs," and multiple transfers of control of the goods.
These issues are manageable, of course. However, working with a crating and shipping company that's familiar with international aerospace transportation gives you an advantage and takes much of the burden off you and your team.
Vetting Specialty Crating, Packaging and Shipping Providers for Aerospace Transportation
They say "there's no substitute for experience." That's certainly true in aerospace logistics. In choosing your provider, you should look for one with a track record of success—both in general shipping and in aerospace shipping in particular. For example, at Craters & Freighters, we've been helping organizations prepare and transport their valuable assets for over 30 years. We've also shipped virtually every kind of aviation asset, some of which you can see in our photo gallery.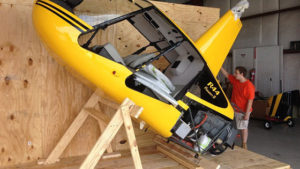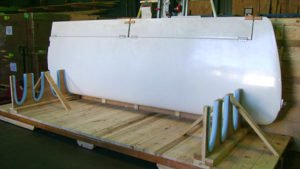 It's also important to select a provider that's "connected." We've got over 65 brick-and-mortar locations around the U.S. to help with domestic aerospace shipping and logistics. We also have trusted contacts in countries around the world that we can reach out to for insights on any changes in aerospace shipping regulations, in-country conditions, etc., that might affect a shipment.
At the end of the day, a little bit of preparation and partnering with the right crating and shipping company can help ensure that anything from jet engine transport to shipping small aircraft parts goes smoothly and that the shipment gets to where it needs to be in a safe, timely and cost-effective manner.