Full Range of Shipping Services
Craters & Freighters Provides Complete Global Shipping Services
With nationwide and international shipping services, Craters & Freighters can move your valuable items anywhere in the world. When you choose to work with our shipping professionals, Craters & Freighters has the resources to manage every detail, so you're able to focus on other matters. Our solutions are comprehensive, leaving you with a streamlined, efficient shipping process.
Shipping Service Options
We have various shipping methods available and can get your items to their destination securely and efficiently. We'll go over your requirements and find an approach that values your needs, goals, and budget. This includes how the shipment is prepared, what mode of transportation is used, and the timing of pickup and delivery.
You should never rely on a generalized shipping process; each differs and must be considered unique. Craters & Freighters will develop a creative shipping solution tailored to your specific needs. Whether you need something shipped overnight, overseas, or in a dedicated truck, Craters & Freighters has options for every shipping scenario and will ensure the safety of your items.
In every engagement, our goal is to get your items we've been entrusted with to their destination safely, quickly, and cost-effectively.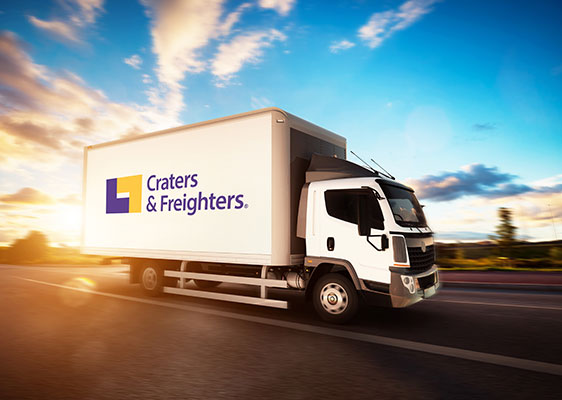 We Ship Anything & Everything
Craters & Freighters welcomes the most challenging shipping projects and is well-versed in managing complex shipping requests. Whether your item is oversized, bulky, or irreplaceable, we can craft a solution that gets it where it needs to go efficiently and on time.
Providing expertise in the engineering of crates used for shipping and their necessary cushioning and supporting techniques, your assets are protected throughout their journey. For a successful shipment, reach out to your nearest C&F location for assistance.
Get a no-obligation cost estimate.
With over 65 brick-and-mortar locations across the country leveraging the best technology to provide worldwide support and logistics, Craters & Freighters has become a national powerhouse with local accountability.
Tell us about your packaging, crating, and or shipping requirements, and we'll reply promptly with a figure you can use in your planning.